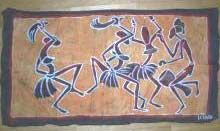 By Sandra from Rome
 
First we observe African textiles (left and above).
2-We dance on African music to represent the movement.
3- We paint silhouettes moving: We paint 3 circles , scrape with a fork to give an impression of movement, then paint a silhouette on each with black acrylic paintings.
4- The drawing is then pasted on kraft paper, decorated with stamps.