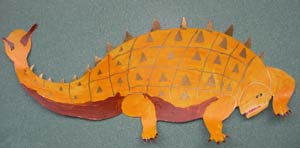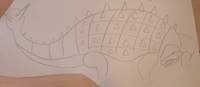 These dinosaurs were made to participate in a small show. A stick is attached on the back of each dinosaur with a  scotch tape so that the children can handle them and  illustrate a song. Otherwise  they decorate a wall.
Outliness were made by the teacher and  children have painted them with acrylic paint.
text of the song ( music is the same as that of the song: Ah les crocodiles…)
Ah dino_no_no, dino_no_no, dino_nosaurs ,
it is a very long time since they disappeared, let us forget them. (refrain)

Tyrannosaurus, had large teeth, he was a  really intelligent hunter .
 Déinonichus: they  often attacked as a pack, and devoured large pieces of meat.
(refrain )
Ankylosaurus, had an armour, which prevented others from  devouring him.

The oviraptor stole eggs from the others and to avoid beeing killed, had to quickly  run away.
(refrain)
TO HELP YOU
tyrannosaurus: purple color
ankylosaurus: in yellow color
déinonichus: in green color
oviraptor: in brown color