Gold
ink and
oily pastel
how to make drawings or graphics with a gold oily pastel and  cover them with ink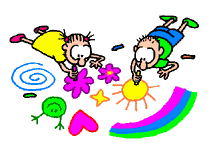 Ink and Rubber Resist Medium
Draw with the painting brush soaked with rubber resist medium, wait until it dries and  paint with ink. As soon as ink is dry withdraw the rubber resist medium   by rubbing it  with your finger.
Inks and straw
Drop on the sheet a drop of ink and  blow on it with the straw before it dries.
Ink, gilded pastel and background  in 3D (such backgrounds are available in  catalogues of crafts and arts stores). Rub a gilded pastel on the background in 3D and paint  with  one or several inks.
Ink and pastel rubbed against the bark of a tree
Put your  sheet on a tree trunk, rub it with oily pastels (here black or brown), crease the sheet, then take out the crease,  pour yellow ink on the sheet directly , then other colors which you will recommend to the children.